Army of Ink No Air Hostess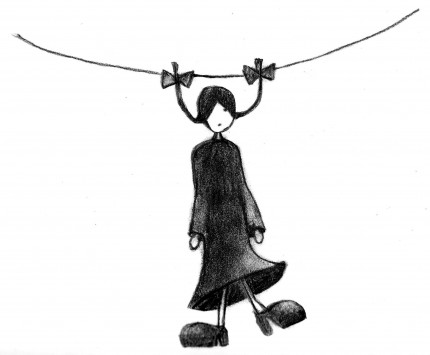 When I grow up I don't want to be an air hostess.
While some are scared of flying, I'm frightened by air hostesses.  Not them personally, but what they collectively represent.  The Barbies of super service.  Minding their manners and following rules.  Trained and conditioned to endlessly serve.  To not rock the boat – or should I say plane?  Plastic and animated puppets of the skyways.  Dangling mid air.  Secure and falsely content in the narrow strip they patrol like soldiers, serving not country, but seats.  Saying nothing to pinched bottoms as they travel to end up nowhere.  And from their demonstrations of survival tips I take my own … never, ever be satisfied with being a puppet.  A follower of mindless instruction.
So join me in flight, to the tune of, "Rapunzel, Rapunzel, let down your golden hair".  May we unravel from the tightly bound plaits of expectation.  Let our hair down and fly freely, into our selves, with no need for wings, or plastic things – or air hostesses and heels for that matter.
She arrived on my recent flight up North.  No offense intended to flight attendents – it just made for a good moral story.  Pass her on to fellow travelers with minds and paths of their own …
Find her in Clunk & Jam book.