Stay Connected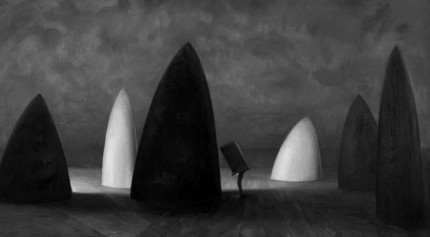 (Art by Harley Manifold, story from Erandathie who works for Mind Australia). 
"Recently, I had to write a letter of condolence to my family living overseas.  (I relate much better to written words than verbal dialogue.)  It was a very distressing time as my cousin took his own life.
With the letter I also enclosed one of your poems 'Beyond Reach'.  I love that poem, I think it more than anything, captures the essence of what it is like to reach the end of the road.  I am yet to come across anything that even captures the depths of despair that poem touches.  I thought the poem might give some inkling of what my cousins was going through to his family.
I obviously took the last two lines off before I sent it to him.  As I was saying to someone the poem as a whole is me, take away the last two lines, that's my cousin.
I myself have turned to that poem for comfort.  I remember one time where I thought I couldn't fight anymore, because it was so hard, I just couldn't do it anymore, I kept reading that poem over and over again.  I felt the poem understood my pain and why I couldn't fight anymore, it was comforting to know that someone understood how insurmountable the pain is.
Just wanted to drop a line to say thank you for the wonderful work you do.  I turn again and again to your work to find solace when things become a little too much.  Sometimes, just for pleasure and to contemplate things.
I am very grateful you are there and happy to share your work.  It brings much joy to many of us out there.  The world is a better place with you in it.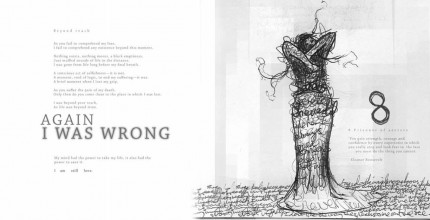 (Artwork by Harley Manifold for book 'In My Room')
There is another nice connection for me here, it was Harley who gave me the book (In My Room).  He is a very dear friend and I cannot ever repay him for the kindness and support he has shown me through my journey.  He has that rare ability to sit with people and say nothing; he doesn't talk to make you feel better or cheer you up, doesn't interfere and does not offer advice.  He just sits with you and just by doing that  he lets you know that he's here for you and supports you.  So, it is very appropriate that the illustration was done by someone who gets it. "
See website's Links page for support here.