Softly spoken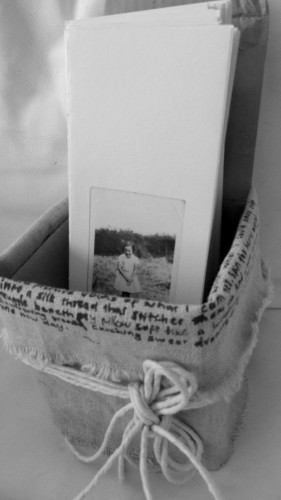 Above are the keepsake bookmarks for Mum's service, handmade and run through Mum's old sewing machine to create a braille underscore for her childhood photo – symbolic of the many late nights she sat up sewing for, and helping, me…..The box was wrapped in a silk screened linen cloth with the 'Inky Things' poem from the 'Rock The Boat' book.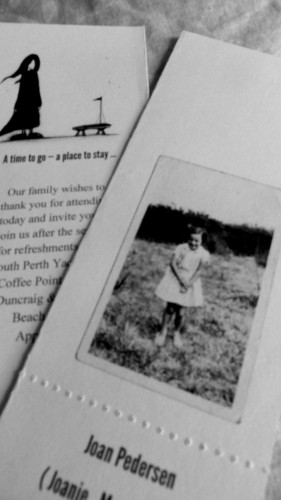 Keeping the sensual, soothing memories close is a wonderful pacifier of grief.  Mum would have wanted me to share these words in case they may be of help to someone else.   My spoken tribute to the most astounding woman…..
Since Mum has gone to rest I have realised that not only did she create a wonderful 'home' for us all, she herself was 'home' – hence the emptiness and void we feel without her.  But she has not left us alone, as I've discovered by going back 'home' to her through the memory bank of deeply meaningful, life enriching experiences she dedicated her life to create for us all.  And to be the Mother she never had—the Granny she cherished.
Here are just a few of those precious things – I'm sure you'll all have a stream of your own….
I Remember you Mum….. for a house well kept but always a home….where 'Ding-dong' welcomed you through, kettle warmed you up and deep cushioned lounges took you in…..the smell of ironing days…..Fabulon, Silvo and Mr Sheen—always the smell of clean …..school uniforms hemmed and starched…..book covering days….school lunches and pick-ups….clean sheets and a bed firmly tucked….handkerchief squares…..whizz of the Singer….…..pianola sing-alongs…tick tock clock…..
…..perfect lamb roasts….scones bundled warm within a tea towel creamy and soft…..the call for porridge ready—toast thickly buttered and cut into toes of three……Twisties after school….green apples sliced with precision from the back seat on long drives….. beans tipped and slithered for the pot with a sprinkle of carb to hold their colour green….gravy beef soup and pot brewed tea….trays of warm biscuits……cordial cups ….  
…a camphor box full of collected cloth and a Japanese gown cold against the skin……tables like mirrors dressed in crocheted cloth…..china cabinet alight with polished silver……diamonds, rubies, sapphires and gold against an olive complexion well kept …..lips of red and soft powdered skin retouched at 6 for a table set for seven's nightly news…..pantyhose feet…..perfume and  hairspray on the breeze….       
….high curtains for Pane Street…..rubber mowing boots for Griggs….  stories of the red North…..snow and blossoms in Japan….home banquets for far from home guests….rattle of the cutlery draw sounding dinner was soon…..recipes four drawers down……Wednesdays…..bunny rugs for newborns….hand knitted 'cardies' for the kids……bumpy beds for sleepovers……the fireplace queue for making bottoms hot to the touch— filling dressing gowns ready for bed….the longest driveway goodbyes …..…..arrivals never empty….. the unpacking of 'specials' and all things 'handy'….the, 'ooo ooo' greeting call……two rings before the phone call so not to wake the kids……windscreen service to send us safely on our way…..soft chest cushion that made the world of worries         d isappear…..reassuring winks and mischievous eyebrow raises…..warm lamps in the late afternoon……fairy cakes dusted in sweet white…..the cake  mixture spoon…..courtyard Christmas's…..parties home catered….  rotisserie chooks…..stove top Milos….frozen oranges at half time….
…..a courtyard hosed clean for roller skate practice and the making of tracks on trikes restored with brilliant red and blue—where 'retic' burst to life, Maiden Hair dripped and the swing chair rocked for so many…..a garden full of baskets and pots, flowers and blooming  roses…..bird bath swirling freshly full…..letterbox goodbyes….. the bottomless 'blue book'……fist full of fifties…..long eared bunnies with coats so soft you can barely feel the touch…..painted nails on their pot bellies…..holding hands in silence beneath cathedral stained glass stories…..bookshop lunches…..secrets kept…..the 'right questions' asked…..and bent venetian waves…..
Mum prided herself on the home and family she created—and lived her life selflessly to ensure everyone was cared for in a way only Mum could do.   She always made time for those who needed someone to take the time.  She was always …. there.  She was the Mother Teresa in our lives—and in the lives of friends and strangers.  She lived so selflessly.   Gave so selflessly.  And she went to rest just as selflessly.  
May we all endeavor to rise to our own challenges, as she did hers, with such courage and strength –such dignity and grace.
Let us remember Mum for the endlessness of her energy.  The endlessness of her capacity to give.  May her life too, be endless, as we endeavour to live our own in the mirror of her beautiful heart.  The sanctuary of her gentle soul.
Cheers to my best buddy. x