PG: Porn Guaranteed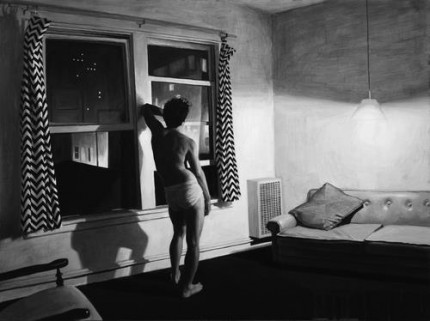 Art by Seth Armstrong (original in colour).  Article by Nikki Gemmell, found in The Weekend Australian Magazine, Nov 23-24, 2013.
"I guarantee you that if you have a 14 year-old boy and he has internet in his bedroom, he is looking at pornography," declares Dr Victor Strasburger, lead author of a new policy from the American Academy of Pediatrics.  Its main recommendation:  that children should spend no more than two hours a day online.  And what of those teenagers all about us, with their phones and their screens?  I don't have kids of that age yet, but already I'm worried.  Because I look at blooming, beautiful older boys around me, raised by enlightened parents who've taught them to be new men of a post-feminist world; tender and kind, tolerant of difference and most importantly, respectful of women, not afraid of them.  Boys who've been raised with a healthy dose of that all-important buzz phrase, EQ.  Emotional intelligence.
Then the boys get the phone.  Their own screen.  They start looking at what all their mates are looking at.  And for women, it ain't pretty.  Hardcore porn.  Anal sex, group sex, oral sex – women servicing men.  And what's on the screen is almost impossible to police, no matter how "well" those boys have been raised.
How does this impact on how our boys will relate to women?  What lovers they'll eventually make if this is the instruction they're getting during that fevered time of raging hormones, curiosity and wonder?  It makes Playboy and the sex manual of old seem positively innocent.
I was seduced in my teens by a man who showed me porn to get me "in the mood".  It was fascinating at first, then repellent.  The sex we had afterwards was mechanical, bleak, ugly.  There was an utter absence of tenderness or inventiveness.  "I remember lovemaking as an exploration of sadness so deep that people must go in pairs," John Updike wrote, and that's how I felt after that humiliating little episode.  Two desperately lonely people were connecting – but utterly failing to at the same time.
The prime object of sex, surely, is union.  So why does porn seem such a solitary, sad, lonely pursuit?  It strips sex of mystery; of reverence and transcendence.  "Pornography is the attempt to insult sex, to do dirt on it," D.H. Lawrence wrote.
Pornography is sex with no light in it and the best sex is bursting with light and life.  You can't be intimate without courage, and there's nothing courageous about porn.  It's about men exercising control over women – who are always available.
Life of course, is far messier than that.  Our young men need to know it.  We need to be able to have calm, rational conversations about the reality of porn; they need to be told that this is not what naked women usually look like.  Not what normal, loving relationships are about.  Not what sex is about.  It should never be violent or degrading.  Women are not just sexual objects.  Sex is so much more sloppy and tender and funny and frustrating and, most importantly, transcendent than what you'll ever see in a porn vid.  Ways of telling our young men this need to be devised, because porn isn't going to go away anytime soon.
Perhaps we also need to think about changing the parameters of the genre – championing feminist porn for instance, where the woman is empowered.  Or creating different pornographic scenarios that embrace tenderness, vulnerability, reality.  Philosopher Alain de Botton says the situation's reached saturation point.  He believes the answer is a "new pornography" that doesn't "ask us to leave behind our ethics, our aesthetic sense and our intelligence…. Ideally, porn would excite our lust in contexts which also presented other, elevated sides of human nature – in which people were being witty, for instance, or showing kindness, or working hard or being clever."  Should more women be directing it, perhaps?  Now there's a thought.
Previous posts on this subject…..  'Keeping in Touch'. (About intimacy).  The changing face of beauty – 'Please sava Mona'.  And fine man talks about the role of men and porn in eating disorders and disordered body image in 'Fat is a dirty word' – "…males figure prominently in the construction, marketing, and use of mass media (including the multibillion-dollar pornography industry) that glorify slenderness, vilify fat, and exploit the female body as a lifeless or endless compliant sexual commodity."
Pass this article on – it's a subject we should be talking more openly about – and as parents, updating the 'birds and bees' talks to now also include the topic of porn…