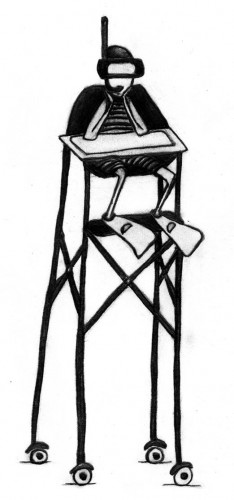 As the catch of responsibility drifted out of the saving, there was little left for Flipper Girl to do except wonder beyond the fishbowl of seriously fogged goggles.
Some thoughts on this one ….
Flipper Girl arrived in 2015.   Taking responsibility for others, or when others don't take responsibility for what they've done, can be like being weighed down with an anchor.  Until someone like Flipper Girl taps you on the shoulder and says;  "Hey, it's not your fault."  And takes you on a trip to a new place….
I think Flipper Girl's clumsy flippers also suggest a slowing down.  A resistance to the exhausting practice of going to the rescue of others.  Pleasing others.   And in the process, not taking care of herself.  Not that she's stopped being kind and caring about others.  She's just giving some of that care and kindness to herself.
(Flipper Girl Series appears in Clunk & Jam book, 2019).
Read the rest of this page »