Christmas Spirit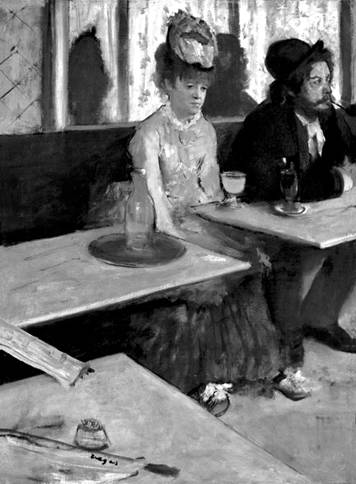 "People who drink to drown their sorrows should be told that sorrow knows how to swim."  Ann Landers.     Painting:  Absinthe by French Impressionist Edgar Degas.    Painting story: 
  "When Absinthe was exhibited in London in 1893 a scandal erupted.   Despite the artist's skill in producing a powerful psychological portrait of the ravages of alcoholism, his contemporaries shunned such an apparently sombre – if not pessimistic – portrayal of Parisian life.  As many still do today.   There are those who wished to dwell on the pleasantries and to avoid the seamy, darker side of human experience.   The woman in Absinthe, conveys the painful isolation imposed by her addiction by sitting next to but being totally disconnected from her compatriot … As our minds elaborate her story, we fantasize that she has become disenchanted with life through many personal tragedies unknown to us.  She appears to be literally drowning her sorrows in absinthe, a bitter, anise-flavoured liquor frequently imbibed in fin de siecle France ….One function of chemical dependency rests on the substance's easy availability and usefulness as a friend."    
Source:  Book:  'Body Betrayed – A Deeper Understanding of Women, Eating Disorders and Treatment' by Kathryn J Zerbe (very insightful and soberly confronting).