Ray of Hope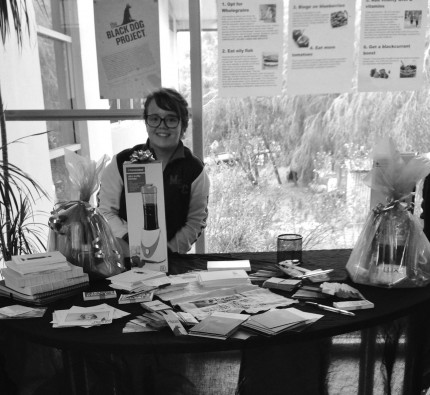 A big thank you to Jemma Wettinger for all her work and thought organising a fundraiser for Black Dog this week at her school, Manea Senior College, Bunbury.  As an ambassador for Black Dog, Jemma set up a display of Black Dog books and cards and organised a raffle.  Money raised goes to giving the books and card collections a permanent place in the school library.
I've known Jemma for some time now through the go-karting club.   She particularly stood out (and up) about 4 years ago when her friend (age 15) took her own life.  Jemma took the initiative to organise a raffle to assist her friend's family with funeral arrangements.  That took great courage.  She then approached me recently about doing something for Black Dog as it had helped her through this time – particularly the Army of Ink 21 Friends postcards which she has on her bedroom wall.
Independently organising these two fundraisers is a testament to Jemma's genuine and continued concern for young people who are struggling and taking their own lives—particularly within her own community. Fundraising aside, she's getting people to talk and connect and feel less alone through those interactions.  Something we must (and can) all do more of.
And I often hear 'grown-ups' criticizing 'young people of today' but I see so often (like in Jemma), the ability of young people to help each other in tough times.  The important message is… that it's often the one on one, personal connections and kindness we extend to each other that has the capacity to make a very real and lasting difference to the lives, and in the dark times of others.   The actions of caring individuals that give us hope.  Thanks for that Jem – and all those who supported her.
See the 'Links' webpage for other support lines and organisations.  See article 'Be Sure to Be Kind'.