Bunny Tale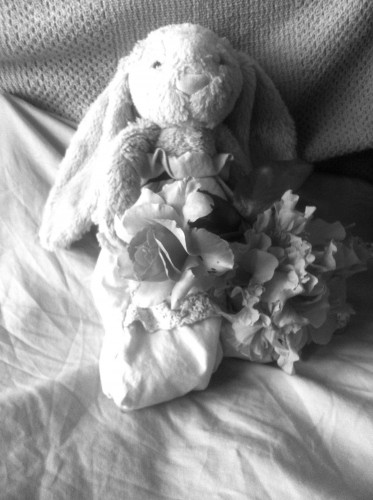 A Bunny Tale for Christmas …
This is a story about my Mum (and a rabbit).   Mum has been doing a big battle for some five years now with cancer.  It's nearly taken her from us many times over.  Quite miraculously, she's still here….
….Mum credits a couple of things to her staying power.  One is the man in the photo who sits atop the wardrobe, over-looking her bed.  He's called 'Granddad' ('Granddad Swinnerton').  He was a priest who dedicated much of his life helping the blind – for which there is a stained glass window in a church bearing his name.   She, 'talks to him' every night.  Asks him to look after those she's specifically worried about – and apologies to him for the list of those requiring his help being so lengthy at times.     But it's not just her 'faith' in Granddad that's kept her going.
The second, which keeps multiplying (as they do),  is a rabbit simply called, 'Bunny'.  It's given Mum hope, companionship, comfort—and something nice to feel when she doesn't feel so nice.  Nearly all of us in the family now have a 'Bunny' – and he has rapidly spread his magic into newborn Grand-kids, friends and anyone going through a tough time.
I often get a call from Mum, saying, "If you're down near that shop again at some stage, could you pick me up another three 'Bunnies'."  I'm sure that's another thing that's kept Mum going strong—her zest for helping others.  Never will you hear Mum feeling sorry for herself.  She always has a story of  someone (often strangers) she's been talking to who are going through a tough time, and she's offered them a warm and comforting thought or story.    And often…..a 'Bunny'.
He accompanies her when she's had her many stays in hospital and when her 'white coat paranoia'  kicks in, it's 'Bunny' (resting on her chest, with her fingers laced around his soft velvet belly) who calms her again.  Recently, when I was helping Mum make her bed at home, she said; "Leave that little cushion on the far side—that's where 'Bunny' sleeps."
Bunny has also been my night-time companion too since 'Jack' came to visit Mum.    He offers me comfort when the reality of her suffering, or thoughts of life without her come to visit—but the comfort also comes from knowing he's comforting Mum when I'm not there with her.  Bunny also came with us on our road trip across Australia this year – and it wasn't certain right up until the last minute, if Mum would be well enough for me to go.  So taking Bunny felt like security, a faith in itself – and a 'keep Mum safe until my return' mascot.   And he worked his magic.
So I'm so very grateful to Bunny, Granddad Swinnerton and the power of Mum's faith, that she's still with us for this Christmas.  Grateful also in the knowledge that Christmas is a time that brings a painful reminder to many of the one's we've lost – the one's who won't be with us at Christmas.
With that in mind, I wish you all strength and peace at Christmas.  The ever faithful Black Dog (and I) will return in the new year after a little rest to continue offering strength and hope – a legacy perhaps, of the way Mum (and 'Grand-dad) have lived their lives giving so warmly to others.
Some time ago I wrote a poem for Mum, here.  Pass it on to those who bring strength to your life…