Books
Clunk & Jam (Second Edition) 2019.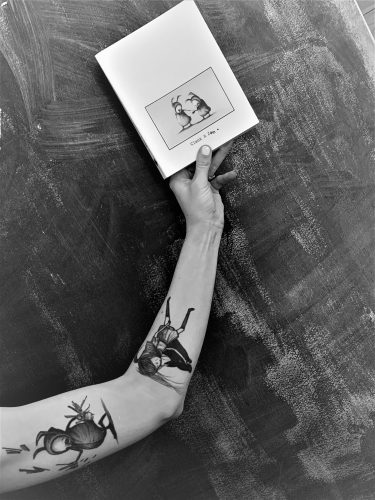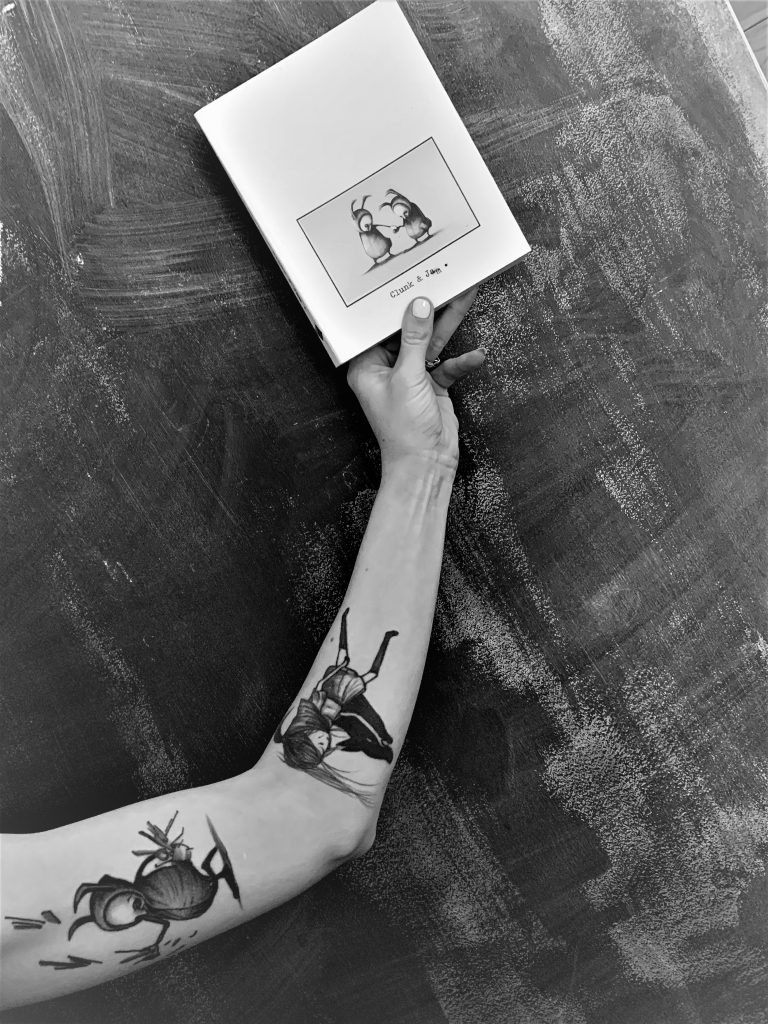 (Content within Clunk & Jam is freely available in the Black Dog Blog here.)
On-line:  Fremantle Art Centre
Stockists Perth (Western Australian) Bookshops:
 New Edition Bookshop, Fremantle.  Fremantle Art Centre , Found Gift shop and online.   Crow Bookshop, Victoria Park.  Planet Bookshop, Northbridge and Mount Lawley.  Subiaco Bookshop, Rokeby Road, Subiaco.  Beaufort Street Books, Mount Lawley (& online).  The Well Bookshop, Applecross.  CollinsBooksellers, Cottesloe.  Lane Bookshop, Claremont.  Diabolik Books & Records, Mt Hawthorn.   Wisdoms of Rose Pocket Book ONLY at  Bodhi Tree Bookstore Cafe, Mt Hawthorn.
Stockists Melbourne (Victoria) Bookshops & On-line Stores:
Hares & Hyenas, Fitzroy.  Brunswick Bound, Brunswick (Clunk & Jam only).  Paperback Bookshop, Burke Street, CBD.  The Little Bookroom, Carlton North.  Third Drawer Down, Fitzroy.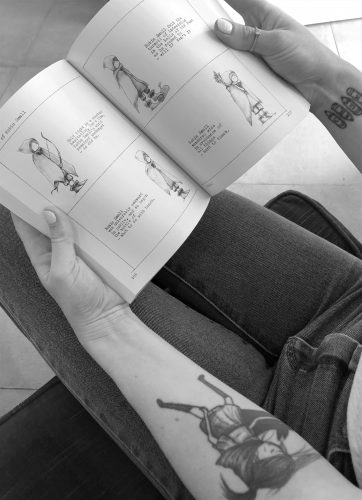 Clunk & Jam (the book) is a collection of art and stories that champion for individuality and difference – transform brokenness into something strongly beautiful.
The 200 pages include the character series  Robin Small, Amelia Bloom, the Army of Ink, Flipper Girl, the New Age BOy and Rose.  The book is typed on an old manual typewriter –  the sound (and poem) giving name to the book's title.
Written, illustrated and published by Janine Browne (unless otherwise credited).  Cover art by Stormie Mills.  Art contributions from Victorian artist, Harley Manifold.  Created using recycled paper, vegetable based ink and thread binding.  Printed in Perth, Western Australia by an accredited environmental management systems printer.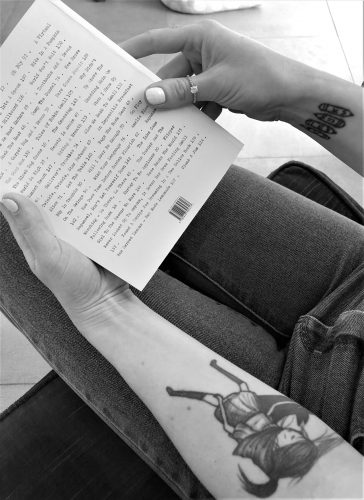 (Pictured, Ash Browne).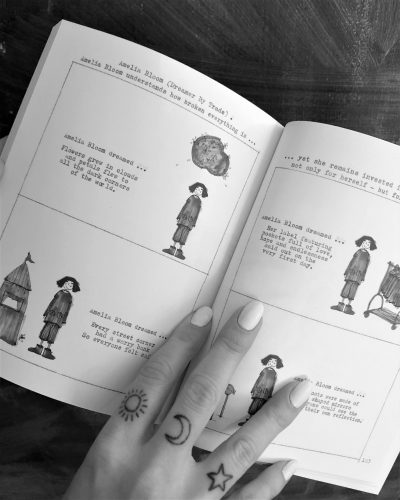 Wisdoms of Rose Pocket Book
(See Stockists above.  Rose is also included in Clunk & Jam, Second Edition, 2019)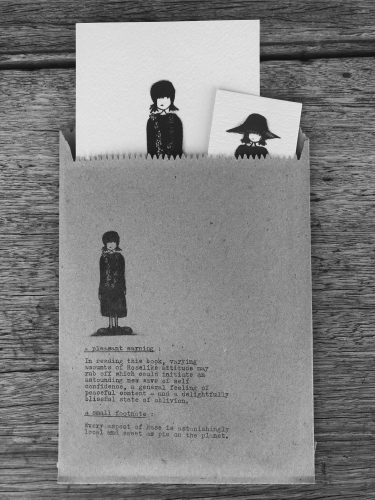 A pleasant warning:  In reading this book, varying amounts of Roselike attitude may rub off which could initiate an astounding new wave of self confidence, a general feeling of peaceful content – and a delightfully blissful state of oblivion.
Rose is an independent promoter of self acceptance – and indulgence.  A star in personal development and a high minder of her own identity.  She is supremely comfortable in herself, resolved and content in following her own path – free from any expectation to the like or followed.    The stories read like a dream school report with a quirky twist and streak of Rose's deadpan humour.  To have and to hold Rose in this little book is to feel calm, confident, carefree and completely at home.
Clunk & Jam Handmade Loose Leaf Edition (Currently Not Available).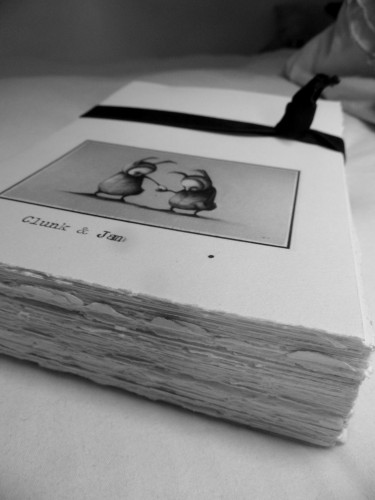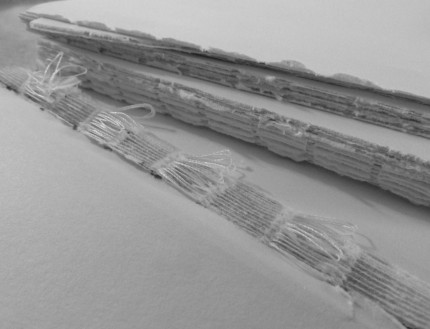 Robin Small Handmade Book
(Robin Small series now also included in Clunk & Jam book).

Although inspired by the Super Hero of ancient times, Robin Hood, Robin Small is not so much the crusading sort but more an outsider who is simply heroicc in his own time.  He stands apprehensive within the modern world but is wise and brave within his own life and journey.   (View entire series in BLOG here).
 
This 18 page book is home to the six Robin Small characters and has been handcrafted using soft, thick cream paper gently pulled from a thread bound art journal, folded and glued to create its unique stacked  spine.  Available from Fremantle Art Centre, FOUND shop, Western Australia.
Rock The Boat Book (Now included in Clunk & Jam, 2019)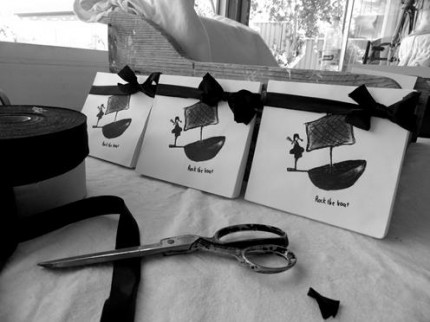 Rock The Boat story … originally a handmade book (2009), handwritten by  friend Maggie-May.  As each of the 23 Army of Ink characters and their stories arrived, Mags who would hand write the stories with handwriting, not fit for school, but a perfect fit for the Army of Ink.   The defiant Army of Ink characters throughout salute truth, difference and doing things your very own way – following your very own path.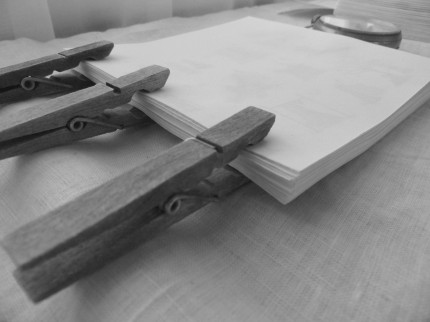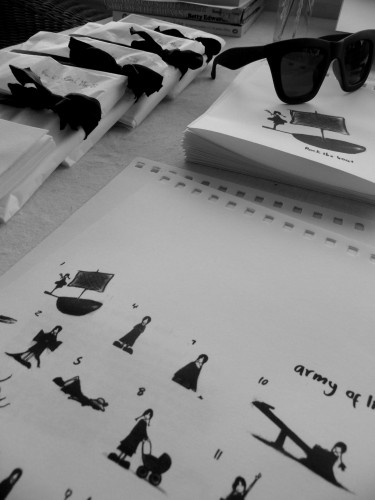 In My Room (Out of Print)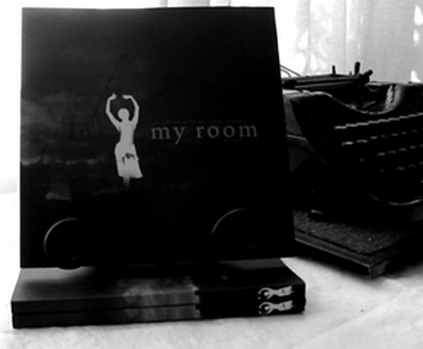 In My Room (2007) …  a collection of art, poems and writing that trace a personal life story.   Harley Manifold a Victorian Artist designed and contributed art to the book.  Book pages and concept here; Book launch photos; the invite .  Book reviews.  Sample pages….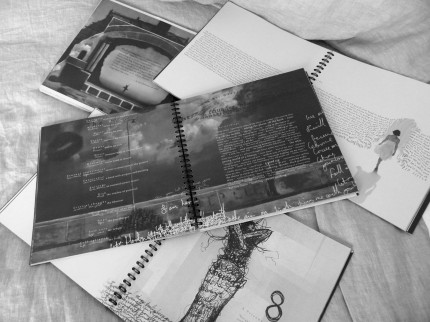 The Dead Bird Theory Handmade Book (Currently out of stock)

This quirky 34 page book is a black comedy about dealing with shitty people who do shitty things.  Some are small shitty things like not saying 'thank you'.  Some are big shitty things that I don't care to mention.  And you end up feeling…..you know the story.   But….'The End' of this book brings 'The End' of feeling shitty.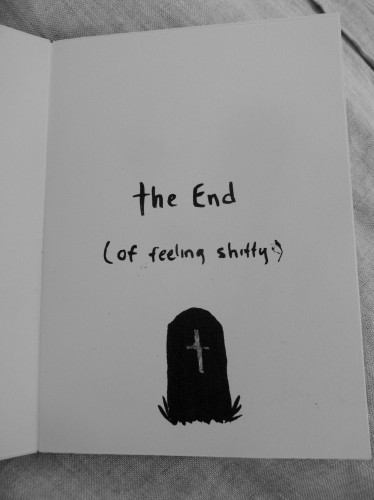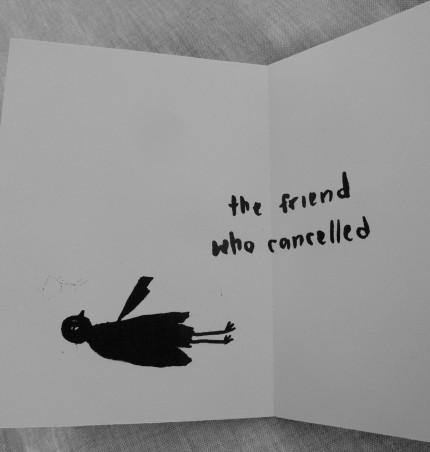 The book has been written and illustrated using gauche paint.  It's handmade using  paper from seconds copies of  'Clunk and Jam'.  Each of the book pages are folded and pile glued with the spine revealing dashes and slithers of the text and art in 'Clunk & Jam'.   The result is that no two spines are the same.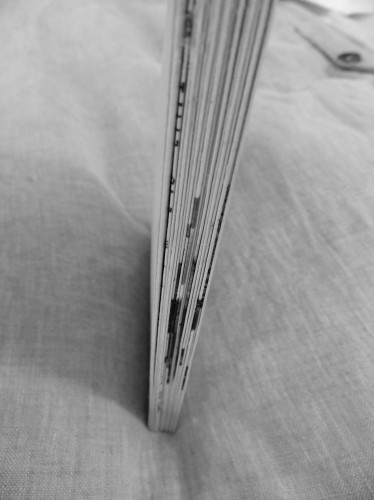 Date stamp within, archiving the day it came to life – or should that be death?  (NB:  No birds were killed in the making of this book).
21 Postcards (now available in Clunk & Jam, Second Edition 2019).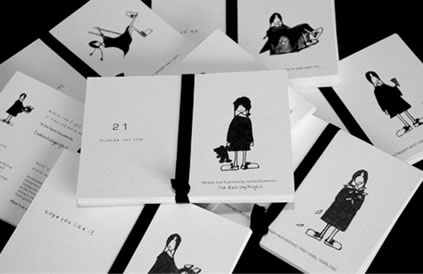 The collection contains  21 Army of Ink girls, each one offering clarifying insight into some tricky feelings and situations.  The postcard collection comes with a black wrist band to wear as a symbol of giving generously to your SELF. They're making empowering connections with those who offer them a home or a place in their bag – under their pillow – between the pages of a book – framed on the wall.
How to use the cards   Down and out   Berry Street Story