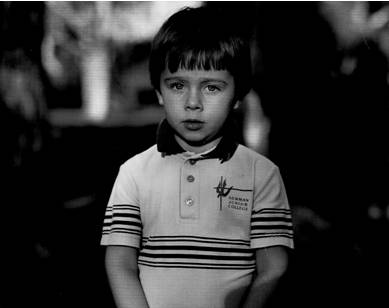 Are School Mottos Aiming Too High ?
A child's pain is unknowable, incomprehensible.  Has he fallen off his bike or been taunted by Bullies?  Some days it's hard to aim high.  A photographic exhibition by Toni Wilkinson.
These photographs are from Toni Wilkinson's photographic exhibition 'Prolepsis' at the Perth Institute of Contemporary Arts March 2005 (exhibition photos were full colour, however Toni has allowed them to be presented in black and white format for Black Dog). The following is an excerpt from the text describing Toni Wilkinson's work written by Amy Barrett-Lennard (Director, Linden St Kilda Centre for Contemporary arts Melbourne).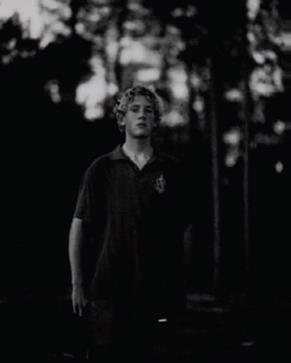 'Prolepsis' is a rhetorical device in which as expected future event or characteristic is presented as though it was an already accomplished fact. School mottos, as Wilkinson suggests in her latest series of photographs, are an example of 'prolepsis' in every day life.  Those high-minded slogans, usually matched with crest and emblazoned on the hats, bags, chests and ideally, the hearts of dutifully dressed school children, are designed to portray the ideals and values that these students will aspire to live by.
Read the rest of this page »