Army of Rain Rain Go Away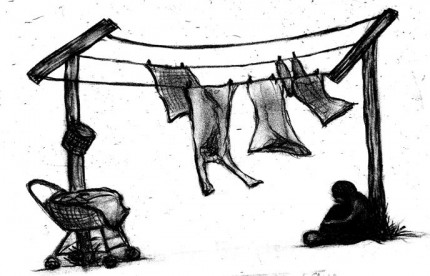 Rain, Rain Go Away .
This little soldier discovered that sometimes there isn't an answer for everything – and the uncertainty that now holds her so tight and still will, in time, also hold some answers. 

Footnote:  This ink spilled in October 2008 after I received the news that Mum had cancer – my world stopped.  During her treatment, 3 motorbike crashes occurred on the strip of road outside my home – within a space of weeks. 
One guy didn't make it.  One escaped with a knee injury.   And then there was Ali.  He sustained severe head, facial and internal injuries.  I was the only one on the scene knowing first aid.  Like Mum, he's still here although his life is forever changed.  For months I felt stuck  – while internally spinning.  The ink was about the load of responsibility and the not knowing or having the answers.   Being taunted by that childhood notion of saving the world (or your Mum, or those guys on their motorbikes).   Being confronted by the grown up realisation that you can't.   It was a hanging up of the cape for me.  Not in defeat – in acceptance.  The ink told me I had to get up, stand on my own two feet.  'No, Mum wasn't going to be taking the washing off the line.  No, I couldn't rewind time and direct the traffic.'      The ink helped me move again.   Appreciate and accept that  when there is no meaning, no answers – perhaps it presents the opportunity to take better care of what we have, value more our experiences and what we know – and be moved by all there is to be learned.
Find her in Rock The Boat book.