Army of ink Girl on Wheels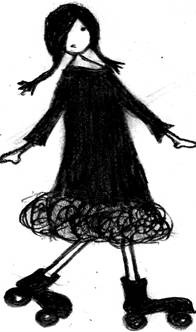 They said it would be a piece of cake .
Footnote:  With Christmas fast approaching and the pressure and pace winding up – it's a good time to share this ink with you.    She's a reflection of myself when I'm in a spin – I end up going 'round and 'round in circles and not actually getting anywhere.  There comes a time when you've got to hang up the skates and be a little (or a lot) more realistic about how much you can actually do.