Flipper Girl – To The Rescue No More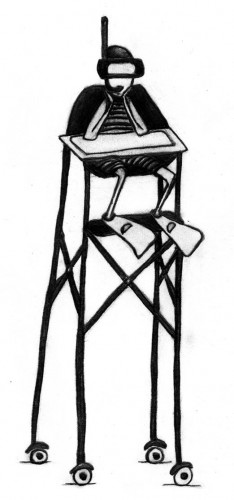 As the catch of responsibility drifted out of the saving, there was little left for Flipper Girl to do except wonder beyond the fishbowl of seriously fogged goggles.
(Flipper Girl Series appears in Clunk & Jam book, 2019).
Footnote:
Flipper Girl arrived in 2015.   Taking responsibility for others, or when others don't take responsibility for what they've done, can be heavy business.  Until someone like Flipper Girl taps you on the shoulder and says;  "Hey, it's not your fault."  And takes you on a trip to a new place….
Flipper Girl's clumsy flippers seem to suggest a slowing down.  A resistance to the exhausting practice of going to the rescue of others.  Pleasing others.   And in the process, not taking care of herself.  Not that she's stopped being kind and caring about others.  She's just giving some of that care and kindness to herself.
A true story…
What if she lost sight of the truth?  Was the story Flipper Girl initially arrived with.  She turned up in response to the telling of a long kept truth – and it was badly mishandled.  Mouth blocked with snorkel suggesting the challenge she's since had to have her truth heard.  Attempts were even made to prove details of her story incorrect.  So she gripped even tighter to her truth, feeling an urgent necessity to piece it all back together—and to make them see.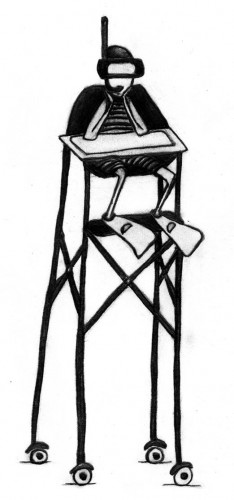 But what eventually helped her see, was a wise man who questioned; "What if she did lose sight of the truth?"
He also worried about the burden of 'never', the necessity it implied to be forever vigilant– which could prevent her from ever being free.  Adding;
"Surely she should be allowed to just go and sun-bake."
This spiked a new level of thought from which she could see how 'Never lose sight of the truth', was close friends with 'Don't you ever forget", and …. 'Don't you ever tell'.  At this moment she felt the crippling effect of these words – the burden and responsibility they implied.
Now it was clear to her how being locked into this life-guard type tower, in a position of constant responsibility for others, was no place for a forward moving girl.  The high chair likeness perhaps suggesting she had taken up this position from a very young age.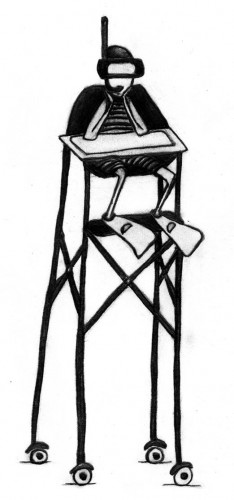 And while this position may have seemed like a way of 'making them see', and guarding her truth, it could potentially become an endless and debilitating cause.  In fact, being so vigilant of both truth and 'self', could render her forever stuck.
She seems almost 'on trial' up there too, wrongfully so because it was she who had long been a vehicle for the wrongs of others.   At this moment it became clear that the little girl needed rescuing from the burden of her tower duties – and of guarding her truth so diligently.
In the end….she concluded, the greatest finger to injustice would be to vacate the tower of responsibility, free herself from the constraints of truth holding—and do what the good man suggested; 'Just go sun-bake'.  NB:  With the danger of getting skin cancer, this is not (literally) recommended.