Clown Girl – Roll Up, Roll Up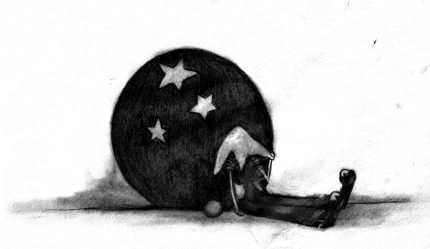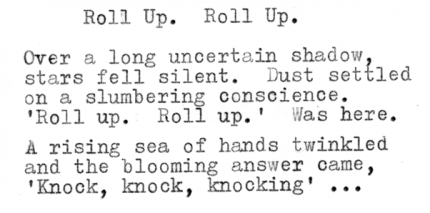 Footnote:  Boots arrived (during the pandemic isolation in March, 2020).  In the early stage of the drawing, Boots was leaning against the globe, ground to a halt.  But as the drawing progressed, the continents became stars.  The biggest, falling right on top of Boot's head.  Stuck, she became in the –  'in-between'.
But this was not to be the end – of the drawing.  Of the world.  Boots raised a hand, cautiously turning back a corner of the fallen star.   And there, right alongside her, a faintly glowing object of mystery, rolled up, rolled up.
Was it a ball for juggling?  Mirroring a juggled conscience?  Dropped or forgotten?  Left behind or gone astray?  Or maybe it was that small thing that so easily gets lost or overlooked?  Still there.  Still waiting.  Perhaps something new?  A gift.  Small and precious.  A reminder that there are things that need much greater care that we ever imagine — and quite often forget.  Until something rolls up, rolls up…
('Boots – The Clown, The World's Greatest Act, Part I', out of isolation March 2020)