Melbourne Street Musician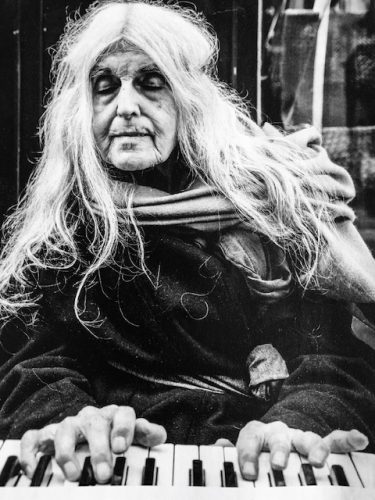 Photography Julian Kingma.
Natalie Trayling's story is one of triumph over tragedy – and the power of music to hold and change lives.   (Found in Weekend Australian Magazine).
Not owning a piano, Natalie would go into the David Jones store in Melbourne city.  For years she was a fixture there.  But few knew that each night, Natalie disappeared onto the streets, often sleeping in parks and gardens, until dawn when David Jones store opened for her to play again.
A Mother of four children,  Natalie's daughter Kerin was killed in a car accident outside the family home when she was just six years old.  Her youngest child Nathan, a promising junior sportsman, suffered depression and was diagnosed with schizophrenia.  Her second daughter, Jo-Ann, died from cystic fibrosis.  In a final, cruel blow, the family home they'd all once happily shared burnt to the ground.  For the past two decades Natalie has chosen to live and share her life's work on the streets of Melbourne, for no money and no fanfare.  (Natalie is originally from Perth,Western Australia and graduated from Santa Maria College with a diploma of music at the age of 17. )  See article by Sue Sethurst,  here.  Her son Matthew has recorded her music here.