Toothache and a dream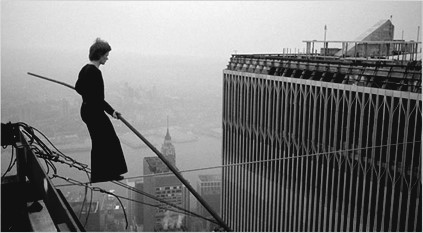 The Artist Crime of The Century .
Imagine … sitting in the waiting room of a dentist surgery, flipping through a newspaper.  You spot a sketch of the proposed Twin Tower buildings in New York.  In that moment you decide, upon completion of the buildings, you will (illegally) string a tightrope wire between the towers (450 metres high) and attempt the impossible.  And you do it.  Not once, but you dance (and kneel and lay) along the wire, crossing back and forth 8 times.   Philippe Petite devoted years to making his dream a reality -along with loyal supporters.   A friend told me this story and recommended the movie 'Man on Wire'.  I return to it time and time again for inspiration and strength – and the message that we must prepare our steps well but also be prepared to step back from the wire when those steps don't feel right to take.
Find in Clunk & Jam book.  See 'Man on Wire' documentary film, 2008).