Robin Small – Wearing The Hurts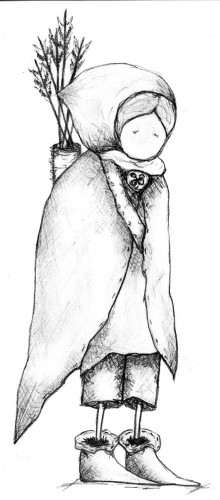 'Robin Small wandered wide in avoidance of – all things hard to touch.'
(Reposted from 9.10.2018)
Footnote:  The initial thread of Robin's story 'avoidance of all things hard to touch', might elude to the trouble he has getting close, or being close with others.  Touching – or being touched.  Feeling the pain of loss or disappointment.  His avoidance of feeling things at all?  Maybe Robin Small finds it difficult to connect with things deep within himself?   But maybe he's also contemplating taking a small step towards trusting again – taking a risk?
Robin's arrows might be symbolic of his painful experience of relationships and of interacting with others?  Each arrow a jab of pain he has experienced—a backpack of hurts.  His heavy cloak and oversize 'buttoning up' could suggest he wears an armor against further and future hurt.  Or could mean something entirely different?
The fact that he carries no bow might suggest he's not firing or fighting back to defend, or forever protect himself.   His gentleness, and thoughtfulness could suggest he's quietly finding his way – in his own time.  He seems a gentle soul who perhaps does long for the good company of someone who will treat him kindly and carefully.   Value his sensitivity.  Or he may mean something entirely different?