My Place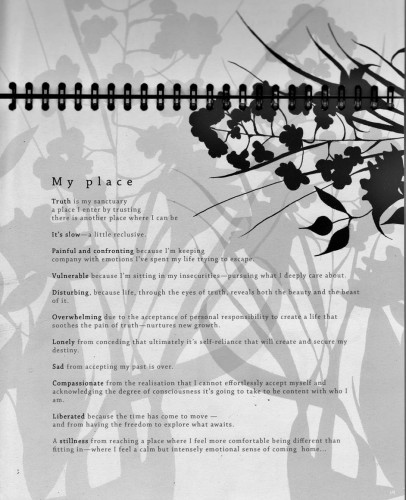 My Place .
Truth is my sanctuary.  A place I enter by trusting there is another place I can be.
It's slow.  A little reclusive.
Painful and confronting because I'm keeping company with emotions I've spent my life trying to escape.
Vulnerable, because I'm sitting in my insecurities.  Pursuing what I deeply care about.
Disturbing, because life, through the eyes of truth, reveals both the beauty and the beast of it.
Overwhelming, due to the acceptance of personal responsibility to create a life that soothes the pain of truth – nurtures new growth.
Lonely, from conceding that ultimately it is self-reliance that will create and secure my destiny.
Sad, from accepting my past is over.
Compassionate, from the realisation that I cannot effortlessly accept myself.  And acknowledging the degree of consciousness it's going to take to be content with who I am.
Liberated, because the time has come to move – and from having the freedom to explore what awaits.
A stillness, from reaching a place where I feel more comfortable being different than fitting in.  Where I feel a calm but intensely emotional sense of coming home.
Footnote:
Written pre-2006.  Showed a friend this poem many years ago.  She said she was sorry this was how I felt and hoped one day I'd find peace and happiness.  For me, the poem wasn't a downer – more a revelation.   Liberating.  When you've lived a life hiding and surpressing emotion and truth it's such a breakthrough when you sit with it, allow yourself to 'feel' again, and emerge in a better, stronger place.  I'm not sure you find real peace and joy by constantly hanging out with happiness.  But when you break the constraints of keeping secrets and pretending to be okay – that's when the light comes on.
See previous posts/poems on this theme.  The Crossing.   Illuminate the Darkness.  Dancer and The Following Dark.   Hold On (being there for someone who is feeling intensely).  Being a Heroic Friend.  The New Brave. Boy Oh Boy.  Robin Small is comfortable being vulnerable and wearing his hurts.  This Rose is curious about feelings.  This Army of Ink is protesting about smiley faces.   The Black Dog Story.  Pass it on …
Poem from book, 'In My Room'.   Artwork Ash Browne.  Design Harley Manifold.