Outsider Art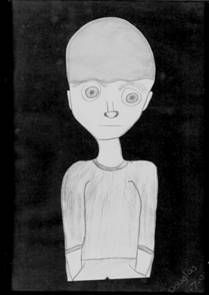 Excerpt from Art Apart, written by Kate Bezar, Dumbo Feather magazine.   Art by Douglas, Black Dog  Secret 28.
Outsider Art does not just refer to artists without any prior exposure to art, but more broadly to people who work outside of the accepted art networks and institutions.  In many cases, they suffer from mental illness or disability, but the list also includes prisoners, hermits and anyone who simply doesn't fit.  French artist, Jean Debuffet, was the first to give it a name; 'l'Art Brut', which translates as 'raw art'.  He described the genre as "works created from solitude and from pure and authentic creative impulses – where the worries of competition, acclaim and social promotion do not interfere. "
 Visit Henry Boxer Gallery website and read the Artist's fascinating biographies.  The Callan Park Gallery for Self-Taught and Outsider Art website.