A Week Away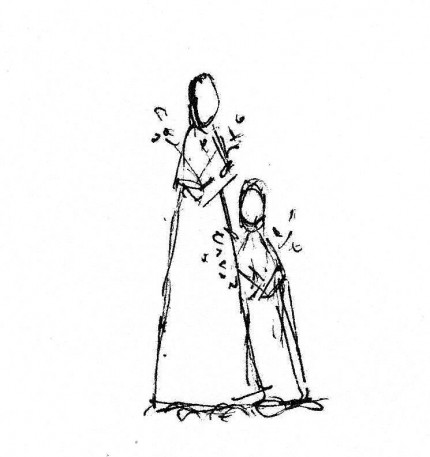 A Week Away .
Sit in awe and wonder of a woman who wears her possible fate in a way that marks a question on the mirrors of us all.  For nothing is ever more beautiful that pure courage and truth shared in the absence of fear.   While she may feel there is now little she can give – she has never been so full.  And despite energy low and time much shorter than most, she commits to home made juices, savouring every dip of spoon – offering a recipe for us all.
Her touch is void of hurry, lingering long and toasty warm.  And the serenity of her space sits you firmly in your seat and somewhere goes your list of 'things to do'.  The treat is the mischievous sparkle that skips across tiring eyes to reveal a woman who's swapped 'right' and 'wrong' to invite little girls to play.  And we do.  Following her shuffling slippers on legs we joke are now so fashionably thin and a bottom all but gone.  She steps into her garden world, full of birds she points high in gums.  Willy Wagtails snapping insects in her wake.
Her crave for something watery leads to the river's edge where each pause in her delicate steps is a moment made precious to soak in Swans dipping deep with strange bottoms pointing to a cloudless sky – and Seagulls squabbling over a catch.  From this, she draws a breath so full, a moment of ease and stillness, like a Dragon Fly's hover above her growing patch.
And when she lounges into a tranquil nap, you pour the wish of life into holding hands and feel a strange and distant peace, knowing that if the day arrives that brings her no tomorrow, this is where she'll be.  In this beautiful, beautiful space.
Footnote:  Written for forever brave Fri.  12.4.1963-19.6.2010).  She writes in her diary, "Tonight I have the courage to close my eyes."  Find in Clunk & Jam book.