Box full of hope and heart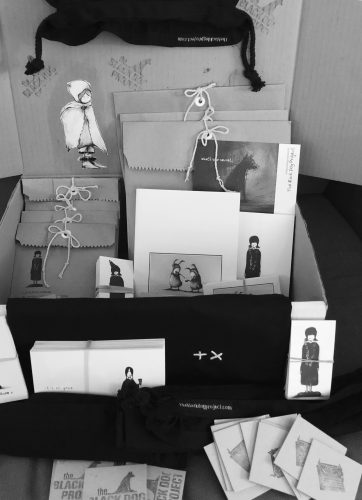 Thank you to the kind people who sponsor books to be given to community groups for the young people they are supporting.  This box is bound for Child and Adolescent Mental Health Services in rural Northam.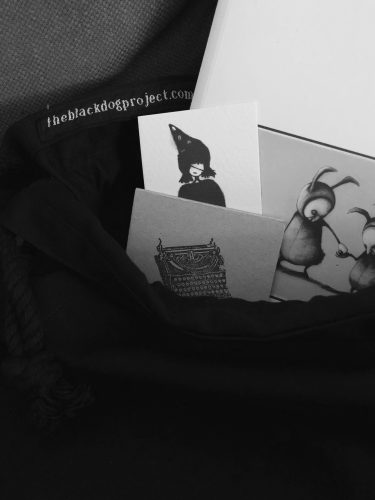 The idea of making the book bags (pockets, pouches) above, for The Black Dog Project came from spending time with young people who'd experienced trauma, and my own experience of it.   When you've experienced trauma 'safe places' and 'being held' become very important.  The books themselves are created with that in mind – soft paper, muted tones, ink soaked deep into the page.  Characters who 'hold you'.   And space.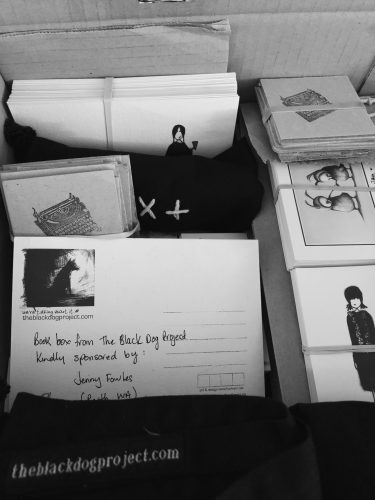 The community groups who gift the books to those they're supporting say the kids often hold the books to their chests (hearts) with a sense of preciousness.  So from that emerged the idea of creating a safe place to keep the books in and somewhere to add their own things.   A group of friends got together with their sewing machines and made a beautiful batch of the pouches.   They have a soft draw string cord and a symbol embroidered by hand with string.  The symbol being code for 'righting the wrongs'.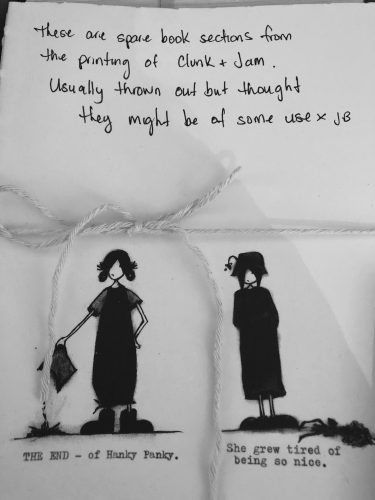 The hand-made part of the gift box is really important.  Interestingly, we had some graphically designed and slickly printed black dog bookmarks done in 2010 but the counsellors say the kids are always drawn to the handmade things.  Like the cardboard squares cut from the back cover of art journals and stamped with The Black Dog Project stamp on one side and Clunk & Jam typewriter on the other.   Aside from being 'quiet' and softly sensory, maybe it's because they're imperfect and no two are the same?  A good message about the value of difference maybe?  And things not being perfect?