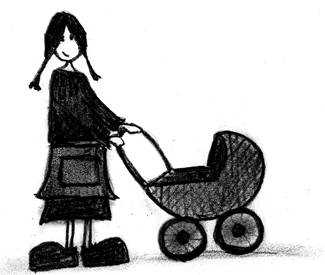 Skip To Me .
 When I was a little girl I wore black pantyhose on my head.   Flicked back ponytail legs.  Wobbled on stiletto sticks.  Tripped and  tumbled.  And all fell down.  Plaits now fall on shoulders of mine.  Following and pretending packed away.   I skip along paths dodging footprint holes and dress up boxes.   Never again to cover my tracks.   I skip like a stone  forever  on a path of my own.

Footnote:  This ink came to me about from feeling a sense of being grown up.  Not in the conventional sense.  Just feeling 'integrated' with the little girl.   Found this quote, "Happy ever afters are stories not finished yet" .  A line Angelique Jollie dishes up to Brad in the movie Mr and Mrs Smith.  And yes, I did wear pantyhose on my head as a kid – and painted false finger nails made out of sticky tape.   
Find her in Rock The Boat book.