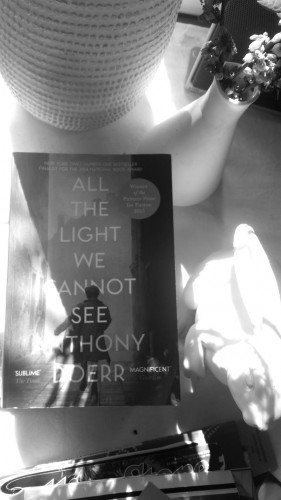 (Reading this book at time of poem)
The Good Man .
Where are all the good men,
Who see us, hear us, feel us   /   Touch us with a gentle hand.   /   Who can button our cardigan   /   Tie our bow  /  Kiss us dryly on the cheek  /  And love us in our strength.
Who mind us in our fragile state  /  Cradle us as you would a broken bird  /  Not to satisfy a need within themselves  /  Nor to forever stroke our weakness  /  But to strengthen the flight they wish for us to take.
Where are all the good men,
Who can accept without threat  /  All we invite and excite over  /  Remain seated throughout the pleasure  /  Of each unbridled offering  / And protect the innocence of the gift.   /   Who safe keep precious pieces we discard  /  Hear our strange and distant song  /  Follow notes beyond the noise  /  And return knowingly without taking.
Where are all the good men,
Who keep light and air in windows high  /  Flowers on the stairs  /  Who hold a mirror quietly to the side  /  So we can recognise the newness  /  And the goodness in ourselves  /  Comprehend the whole of who we are  /  And fear no more the stage.
Who wait well outside our hiding place  /  Offer not hand but time  /  A refuge where within we tend neglected hurts  /  Slow to a halt from our exhaustive run  /  And bring to life our dreams.
Where is the good man,
So sure and steady in stride  /  He invites us into our own  /  Where we unite in all our consciousness  /  With the good man in ourselves.
Where we fill with the fearlessness  /  Of taking our very first step  /  And release ourselves from an endless edge.
(Written August, 2015.  In appreciation of a particularly good man, my therapist, Andrew Relph)