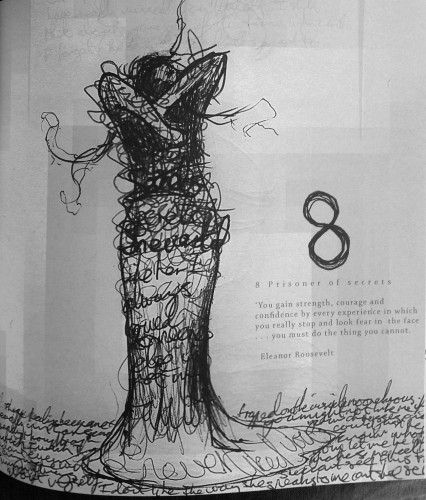 Pictured:  Book page, 'In My Room'.  
WARNING:  The poem below is about suicide.   The important thing to know is …. I am still here.  
Beyond Reach .
As you fail to comprehend my loss, /  I fail to comprehend any existence beyond this moment.   /  Nothing exists.  /  Nothing moves.   / A black emptiness.  /  Just muffled sounds of life in the distance.   /  I was gone from life long before my final breath.   /  A conscious act of selfishness – it was not.  /  A moment, void of logic, to end my suffering – it was.  /   A brief moment when I lost my grip.   /  As you suffer the pain of my death.    / Only then do you come close to the place in which I was lost. /   I was beyond your reach.   /  As life was beyond mine.
I was wrong.  /  My mind had the power to take my life,  / it also had the power to save it. /  I AM STILL HERE .  (Written around 2006)
See post above 'Stay Connected'.  'Hold On'.   'There will be more moments'.  'Dear Me' letter of encouragement.   'Comes and Goes'.    'Off My Wave' poem offering an understanding around how those of us in dark spaces are more consoled by the validation of our space than by the offer of well meaning optimism that is, in that moment, far beyond our grasp.
For support see this website's Links page here.