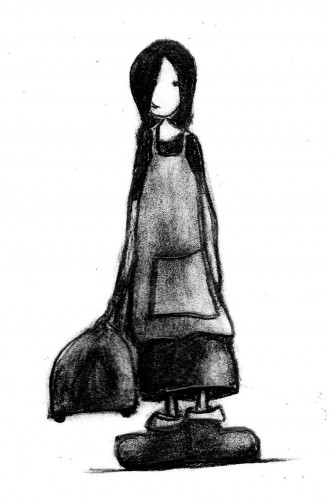 She arrived with a carpet bag and a dream …
… If she couldn't save the world, maybe she could simply share what helped her rescue herself.  Which might help others fight their own battles – and she to concentrate on her own.
Personal footnote:  This ink arrived around the time of making bags to fill with books to gift to young people.   She might be suggesting we need a bag of sorts (imaginary or real) to carry with us through life.  Something to keep filling with things collected along the way that help you get through the tough times and tricky moments.  Serve to map a path forward.  Contain what we've achieved so far.  Store things that support us to be strong, independently minded individuals – to survive and create positive changes in our lives.   Or imagine it's a bottomless bag (like Mary Poppin's), forever sprouting new things.
(Reposted from January, 2012.  Find her in 'Clunk & Jam' book.)