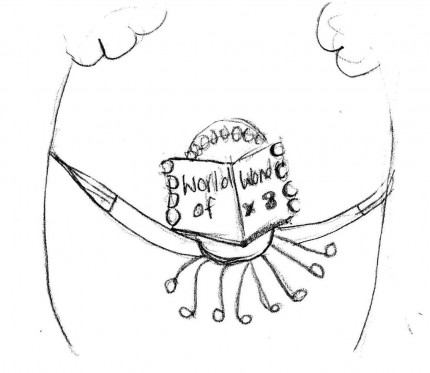 Wonder x 8 .
Sit in awe and wonder of Sir Spider as he creates an extraordinary lace, at a flying pace, with an endless thread and no instruction book in hand x 8.  No education.  No hand-me-down skills x 8.  No voice to ask for directions.
Wonder….how does he know where to begin?  How does he create such perfect symmetry with no tools of measure?  How does he know when to snip the last thread to complete his masterpiece?  And does he have any real idea why he does what he does?  Does he feel a zone of frustration in a tiny vein, knowing tomorrow he'll have to start all over again?
Or is he blissfully happy in his delightfully thoughtless spin?  Makes you wonder ….
(Find in 'Clunk & Jam' book.)